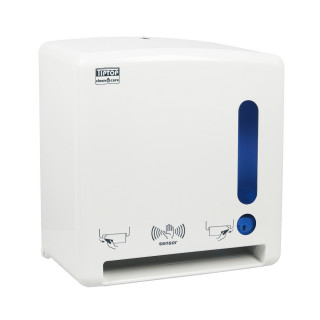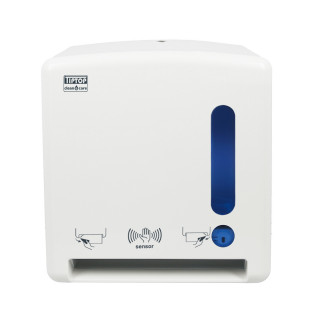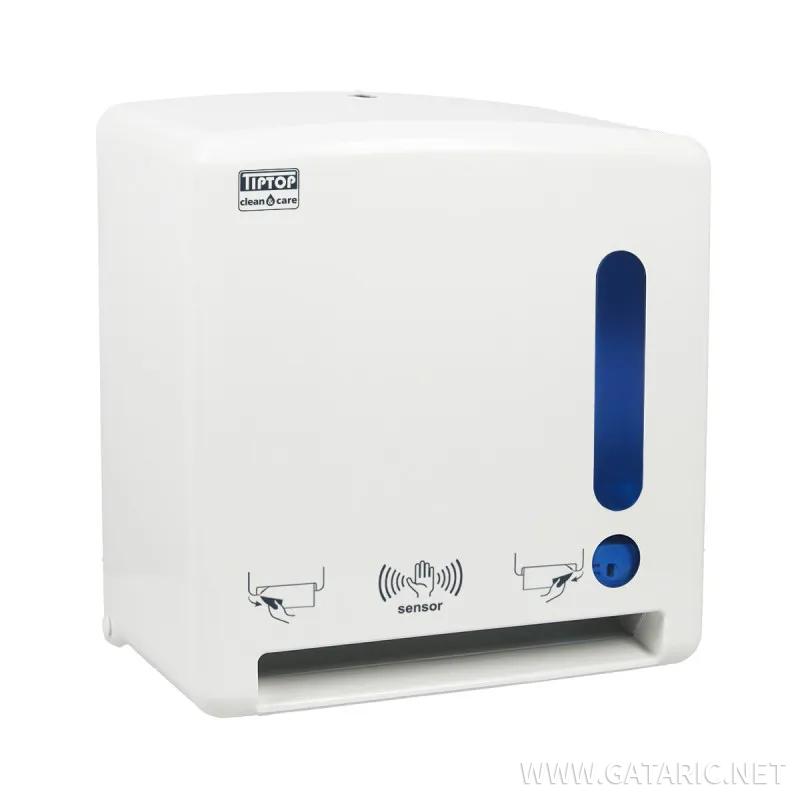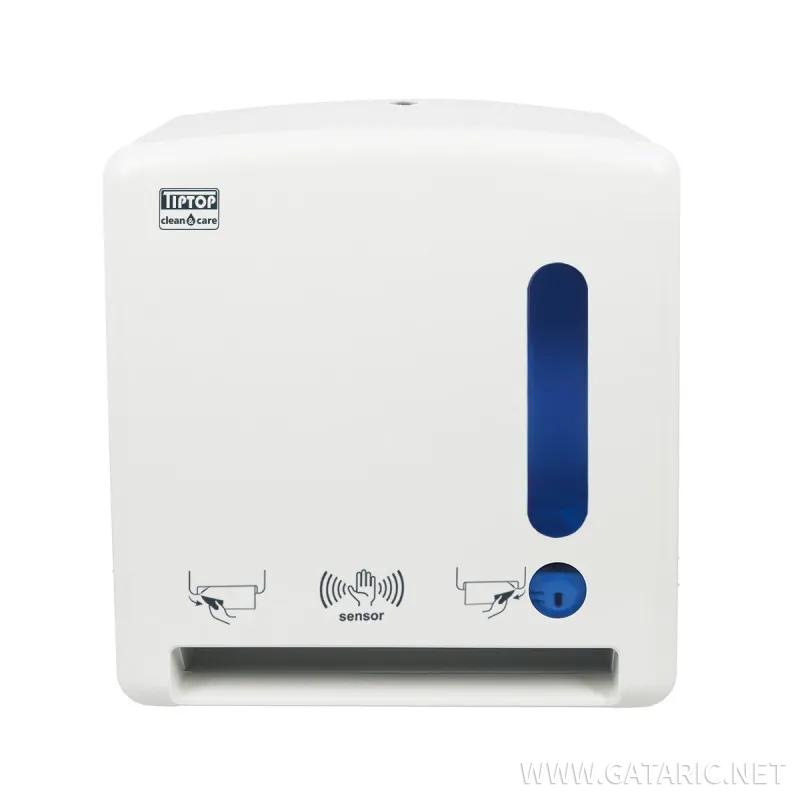 Tip Top Clean
"Touchfree" towel dispenser (RF)
• The dispenser offers optimal hygiene
• Suitable for paper rolls
• Sensor field that goes over the entire width
• Works completely non-contact
• The required paper length can be infinitely adjustable from 15 to 80 cm
• Extremely low energy consumption
• Dimensions (Hx5xD): 345X330X215mm
• Material: Plastic
• Case color: white
Check availability
To see the prices, you must be registered as a legal entity.
Professional drying

The dispenser offers optimal hygiene
This paper roll dispenser is the only dispenser with a sensor field covering the whole width. It works completely contact-free, so no direct contact is necessary. The paper feed takes place only on request and spreads thus hygienically clean paper. The dispenser works most economically and offers the highest savings potential.
Less paper consumption compared to folded towel paper.The required paper length is continuously adjustable from 15 to 80 cm. Hereby one meets the different requirements, so no paper is wasted. There will be a huge reduction in consumption and waste production achieved. Adjustable time delay of 0.5 to 5 seconds It serves to consciously reduce costs.
The energy consumption is extremely low, so that one battery pack is sufficient for up to 120 towel rolls of 140 m each. The donor is very functional Filling the dispenser takes just a few steps. The large filling capacity. With the help of the residual role function, the dispenser enables the complete use of each towel roll. It is always filled and ready to use. A viewing window enables consumption control. The dispenser is very stable It is made of impact-resistant plastic. A solid metal lock prevents access from the outside and prevents theft. Ideal for exchanging existing Due to many cutouts in the rear wall of the housing, the replacement is usually without drilling possible. Ideak for all needs. We offer three different towel rolls, the right roll for every purpose. High quality that meets all requirements.
To achieve the best results, we recommend industrial batteries from Ansmann Germany AN 1504-0000.
Basic information
Item number
TTC 408521
Bar code
3871284085215
Product name
"Touchfree" towel dispenser (RF)
Category
Hand paper towel dispenser
Brand
Tip Top Clean
Color
White
Measurement unit
pcs
Dimensions
Length
21.5 cm
Width
33 cm
Height
34.5 cm
Weight
2.76 kg
Logistics information
Sales unit
1
Basic Package
1
Inner pack
/
Transport box
1